Kandi Technologies' Next-Gen All-Electric Crossover Vehicles Enter Mass Production
08/18/2023
JINHUA, CHINA, Aug. 22, 2023 (GLOBE NEWSWIRE) -- Kandi Technologies Group, Inc. ("Kandi" or "the Company") (NASDAQ GS: KNDI), today announced that on August 18, 2023, its next generation all-electric crossover models, 1124 and 1124A, have officially entered mass production at the Hainan facility. These two new models, developed over a year and a half at the Hainan base, are set to be launched in the third quarter of this year.
Kandi's all-electric four-wheel crossover vehicle, crafted and manufactured at the Hainan facility, has garnered impressive sales since its introduction in 2022. This success can be attributed to its captivating design, offering a fresh and enticing appeal, as well as its comfort-oriented automotive-grade chassis and exceptional handling capabilities.

M1124 2+2 Crossover Vehicle (left); M1124A 4-Seat Forward-Facing Crossover Vehicle (right)
With a steadfast commitment to meeting international benchmarks for each product delivered to global customers, the Company has maintained its dedication to autonomous development and pioneering technology. This commitment is underscored by the successive creation of various models, such as the 1204, 1205, and 1124. Notably, in 2022, the 1204 series accomplished significant triumphs in overseas markets, asserting its position as the premier imported product within the U.S. segment.
Dr. Xueqin Dong, CEO of Kandi commented, "We are delighted to announce the commencement of formal mass production for the two new models. They are projected to achieve an annual sales volume of over ten thousand units after launch. We believe that the 1124 series will become another flagship product for Kandi, joining the recently launched all-electric dual-motor four-wheel-drive UTV, thereby further elevating the Kandi brand and driving efficiency gains."
The upcoming 1124 series features advanced technology, reliability, and outstanding performance. The vehicle's overall design has been completely reimagined by American designers, showcasing a dynamic appearance with exquisite textures. It incorporates an automotive-grade chassis, the latest lithium iron phosphate batteries, and optional solar panels. These features provide not only enduring power but also reduce energy consumption and emissions, thereby minimizing the need for frequent charging. The models are also equipped with advanced EPS electric power steering, automotive-grade three-point seat belts, a 10-inch intelligent central touchscreen, reverse camera, and additional storage space, all enhancing safety, travel efficiency, and the user experience.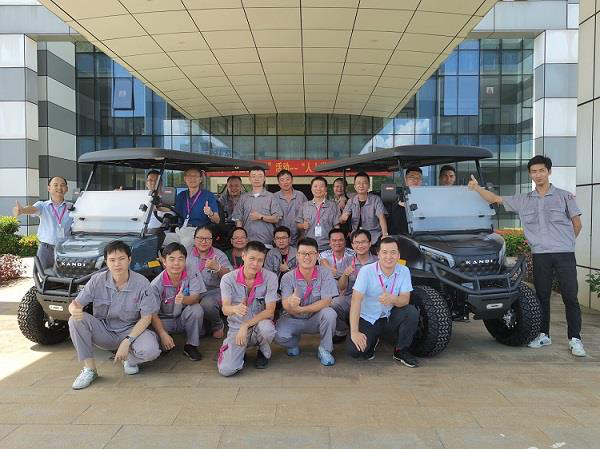 Team picture for 1124/1124A Mass Production on August 18, 2023